Animal care and welfare starts on day one with the newborn calf. Healthy calves are the cornerstone of every dairy operation, not only providing the future genetics for the herd but healthy calves are also important to the vitality of the dairy farm.
Management is one of the main factors influencing calf health and survival and management success is measured in healthy, growing calves. Based on current US dairy management practices reported in the USDA NAHMS Dairy 2014 Survey (released 2018) farmers reported colostrum management consists of only 21.8% of all operations feeding 4 or more recommended quarts of colostrum at first feeding which occurred on average within 3.6 hours after birth. Analgesics and/or anesthetics were used by 28.2% of operations that dehorned heifer calves. Studies also have shown 15-20% of dairy calves in US have developed umbilical infections, and 1.6% of calf deaths related to umbilical infections.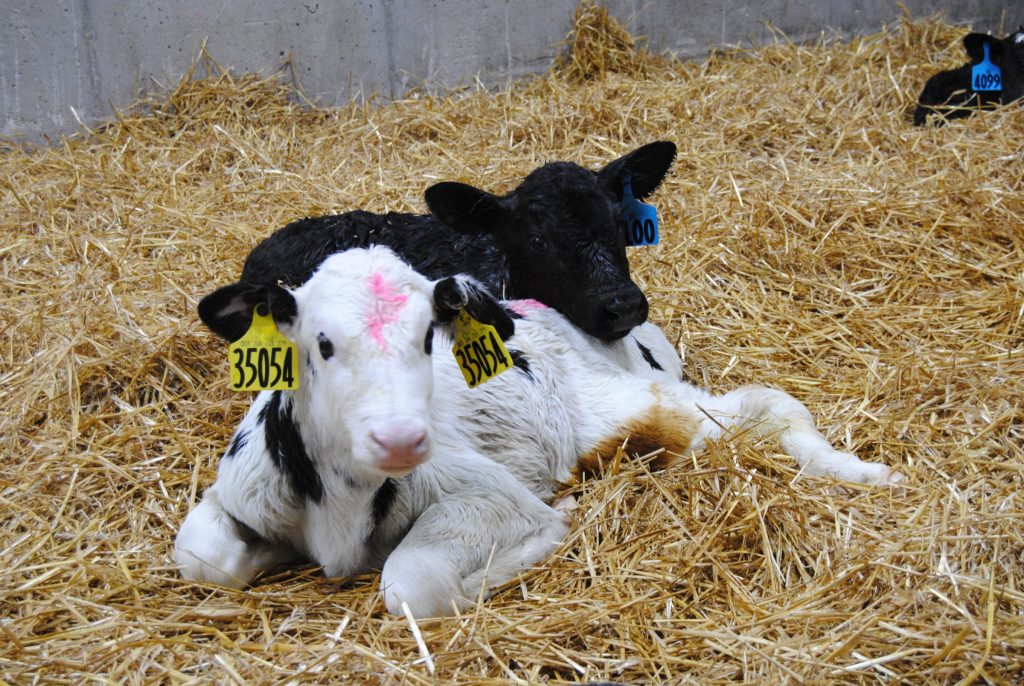 Animal care is all the inputs we as humans provide to our cattle: housing, management, handling, husbandry practices, and other direct ways we are handling them.  Extension Dairy Welfare Specialist Jennifer Van Os explains animal welfare as "what the animal experiences, which is her quality of life, or how well the animal is faring".
Quality assurance programs (FARM, Dairy Quality Assurance, Dairy Beef Quality Assurance, Beef Quality Assurance, and Pork Quality Assurance) are commonplace for all food-producing enterprises and are recommended practices to improve and maintain animal welfare.  Almost half of all dairy operations (45.9 %) participated in a quality assurance program (USDA NAHMS, 2018). In National Dairy FARM 4.0, pre-weaned calves became a key component in the program focusing on calf care practices such as colostrum management and pain mitigation.  Calf care rose towards the top in the development of FARM Animal Care 5.0, with standards for pre-weaned bull calves being requested as a new guidance within the program.
To improve the animal welfare and well-being of dairy calves and heifers, Calf Care and Quality Assurance was developed and released in 2021.  The Calf Care and Quality Assurance program's goal is to raise standards for calf raisers around key management practices that assure consumers calves are raised in a manner that puts animal wellbeing first. The program promotes a way of thinking with thoughtfulness and an appreciation for the responsibility farmers have to their animals, the consumer, and the environment.
Critical management practices have an impact on animal and health welfare including feed, water, housing, handling and restraining, etc. Health and welfare concerns of calves start on Day 1 and are related to newborn calf processing and management, nutrition, and hygienic measures. What are you doing to improve and ensure animal welfare on your farm?
Does your management have protocols in place for preventing and treating diseases in pre-weaned calves?  This would include excellent colostrum management (harvesting, feeding, and storing) to provide passive immunity to the newborn calf's naïve immune system, a vaccination program against common diseases on the farm, and biosecurity (cleanliness and disinfection) to reduce the spread of disease.  Do you dip navels and reevaluate the navel stump 2 to 3 days later to ensure there is not an infection?
Do you provide housing for pre-weaned calves that is well-bedded and clean with excellent ventilation and reduces the incident of injury?  Is there adequate resting space per calf, regardless of if she is individually or grouped-housed? Is there enough bedding to provide insulation from the cold ground during colder months, minimize slipping, provide cushion as she is laying down, or provide a barrier from the moist environment from urine, water, and milk that may have seeped through the bedding?
Do you incorporate pain mitigation when disbudding (less than 8 weeks of age) or have a euthanasia plan for those calves deemed too sick to recover?
Do you have established, written protocols for all calf management and feeding practices to ensure consistency from one person to another?
Do you monitor calf performance based on doubling birth weight by 56 days of age or ensure the feeding program will provide the desired average daily gain for your farm?
Animal care starts with calf care, and it is the eye for detail that will pay dividends in preventing disease and promoting a strong, healthy calf to grow into tomorrow's productive milk cow.