This article was originally published in Wisconsin Agriculturist
Why is it that dairy farms in my area are averaging under the Wisconsin average of 24,884 pounds of milk per cow?  This question got me asking questions to some farmers and agri-service providers.  One piece of the puzzle that emerged is that we may need to be paying closer attention to transition cows in our smaller herds.  Care of the transition cow is not a new concept, but management strategies for the smaller farm may be overlooked when recommendations are shared.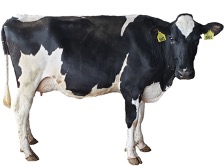 Research shows that in the management of transition cows, dry matter intakes (DMI) are the key to a successful lactation.  Appropriate DMI immediately prior to calving is critical as intake is naturally decreased due to fetal growth and hormone changes in late pregnancy.  The goal is to prevent DMI from dropping, as long as possible, since the energy is critical for the health and production of the cow.  Working with a nutritionist to define the energy in the diet is essential in this period as increased energy density could negatively affect DMI and/or digestion processes, but adequate energy is necessary to prevent the disruption of metabolic processes.  The key lies in keeping the rumen filled with the correct diet that helps transition the rumen microbes to the diet the cow will be eating in lactation.
For smaller herds that might not have the facilities/space to make a transition group in the barn, you might have to get creative in making sure that cows in the transition period get the appropriate diet.  For a tie-stall barn, this might mean grouping the handful of transition cows that you have at any given time next to each other to help with feeding the correct diet.  You may need to prevent these cows from stealing the "normal" lactation diet being fed to the cow next to them by placing a board in the manger area as a divider between the two different diets.  Alternatively, if there doesn't seem to be space in the barn for the transition cows, pasture or dry-lot space with a shelter may provide another management strategy to get the correct diet to these cows.
Research also shows that environmental stressors, including social stress, can affect cow access to bunk space and feed, which can lower DMI.  For herds that have a penning system, and pen space to dedicate to transition cows, there are a couple of grouping strategies to keep in mind with transition cows.  One strategy is to group cows within a set anticipated calving date together with no new animals entering the pen until all cows have calved (all-in, all-out).  An alternative strategy is to move cows in pairs if you must make changes in pens as it takes about four days for the social order to be stabilized after grouping changes are made.
References available upon request